Double or triple glazing for bifold doors, sliding doors and glazing
Over the last five years, we have seen a steady increase in the amount of triple glazing that we using for sliding doors, bifold doors and windows. This is primarily as a result of more glass being used in projects, but also the requirements for lower u-values and increased thermal efficiency.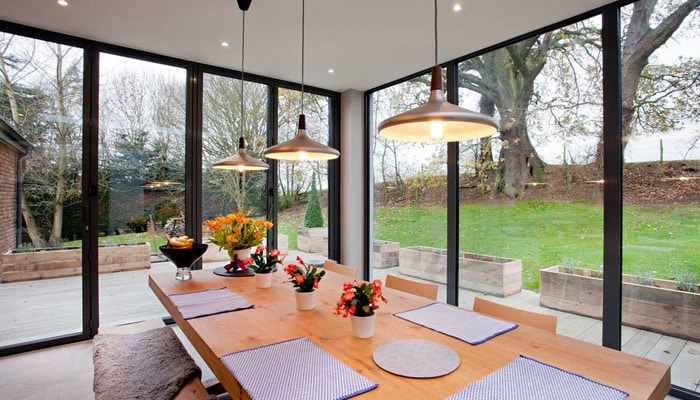 A u-value is the measure of how much heat a building material loses, it's measured in watts per m2 where there is a temperature difference of at least 1-degree kelvin.
Simply put the lower the u-value number the more efficient a product is. Generally, a double glazed door and window will have an overall u-value between 1.6 and 1.8.
A u-value is worked out on the thermal efficiency of the glass and the frame or frames that it is fitting into.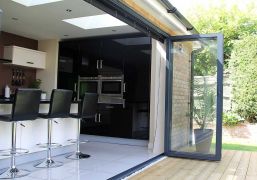 At the moment the best u-value that can be achieved through a piece of double glazing is 1.0. This is achieved by heat reflecting coatings on the pane of glass as well as the cavity space being filled with a gas such as argon.
Triple glazing can get down to as low as 0.5m however this is only achievable when the overall thickness of the unit is 48mm.
Based on this you'll often find manufacturers saying that they offer triple glazing, but are putting it into a door or window frame that will only take a 30, 32 or 36mm thick glass unit. If you factor this in then triple glazing will only perform slightly better than double.
To ensure you are able to achieve the maximum performance benefits of triple glazing, you need to ensure the system that you are fitting is a designed system for triple glazing. As a manufacturer, we need to be sure that the system is not only able to take a thicker glass panel, but also the hardware like hinges is able to deal with the additional weight.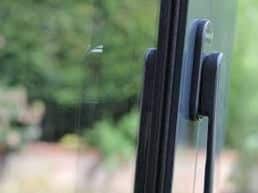 As an example, our double glazed SF55 bifold door will have a glass u-value of 1.0 which when combined with the frame will provide an overall u-value of 1.4. This compared to our SF75 triple glazed system will have a glass value of 0.5 providing an overall value of 0.9.
The other key factor to consider is how the glazing relates to the overall project. Whilst saving energy is an important factor and triple glazing helps you achieve this, if your entire project is not geared towards energy efficiency then any potential savings could be compromised by other factors.
As an example, a new build house built to be as thermally efficient as possible is a typical project where we would see triple glazed bifold doors, sliding doors and glazing installed. However, on an extension to a Victorian terrace house, the efficiency savings of the glazing might be negated by an old roof, inefficient boilers or traditional building methods.
If our explanation has left you with more questions, or you would like specific information about your project one of our dedicated technical team will be able to assist – simply complete the form at the base of this page, email us at info@idsystems.co.uk or call us on 01603 408804.