Bifold doors
These are available in a variety of materials, aluminium, timber and composite. The advantage of bifold doors is that they can open up the entire opening. Bringing the outside inside. So if your priority is getting the opening completely open than they are well worth considering. The maximum width of a door panel is 1,100mm.
Many people wish to have a single access door within the opening and a bifold door can provide this if you have an odd number of panels. So three or five to one side provides this but an even number does not. If you have an even number and need a single access door then this can be achieved by splitting the doors into an odd number so four panels become a three and one configuration.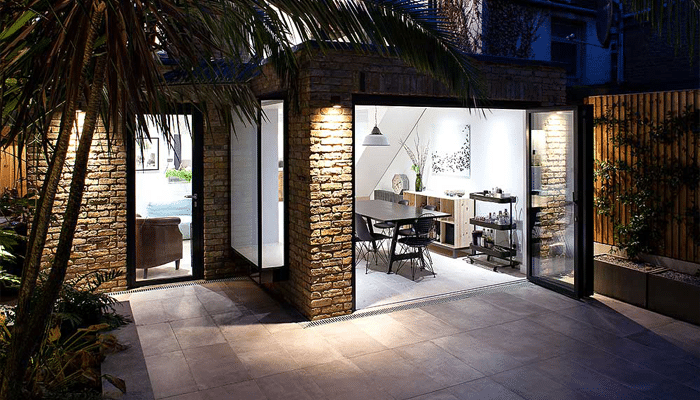 Folding doors have the choice of flush or weathered tracks. Flush tracks provide a level threshold with the inside and outside. Weathered tracks are for exposed locations and when you require a step down to the outside.
The compromise with bifold doors though is the appearance when closed, with significantly more profile visible when compared to the large expanses of glass that can be achieved with sliding doors.
Sliding doors
The material choice with these systems is timber and aluminium, although aluminium is overwhelmingly the most popular choice of materials. The advantage of sliding doors is that they provide wide panels. In aluminium, the individual door panels can be 2,500mm wide and 1,500mm wide in timber, with sight-lines starting from just 24mm you can glaze an opening with a minimal amount of vertical frame.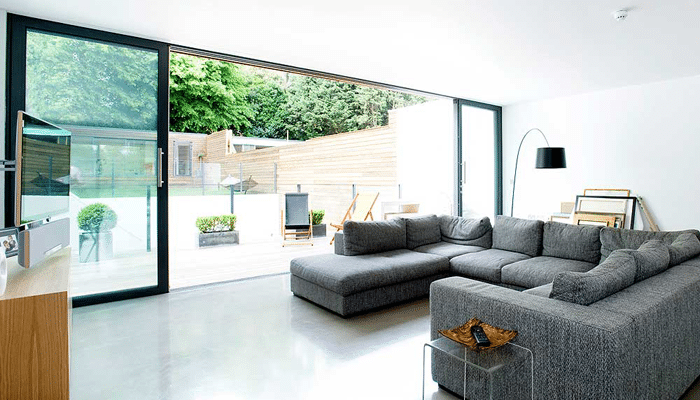 These systems are worth considering if your priority is your view and you wish this to be as uninterrupted as possible. Typical configurations provide a half, two-thirds and three-quarters opening. These doors are ideal for larger openings. If you have a large opening and you are opening up to two-thirds of it, this can give you the inside-outside feel without the whole opening is clear. Like the folding doors, the sliding doors can have level and weathered tracks.
The compromise compared to bifold doors is that they do not usually provide a 100% opening unless it can slide into a pocket.
---
Making the decision
The decision is ultimately yours, although our sales and technical teams will be able to supply you with advice and information about your specific project.
Over the past sixteen years, we have installed bifold door systems from 2-panels to 16-panels, and sliding doors from as small as 1.6m wide to as large as 24m wide. For assistance with your specific project send us an email to info@idsystems.co.uk or call us on 01603 408804.