There has never been more choice for customers when it comes to selecting bifold and sliding door systems. With choice comes decisions, and as market leaders, we will use this blog to answer some of the more frequently asked questions we get asked.
When it comes to choosing materials for your bifold or sliding doors there are three options:
uPVC/plastic
This is generally the entry-level price wise so could save you money. As this material is one of the least stable, bigger profiles are used so sight lines would be large. uPVC expands in the heat and contracts in the cold so may require greater maintenance than other materials. This material can be suitable for in windows given the relative size of the glass and minimal amount of movement experienced, but consideration must be given to the movement involved with a bifold or sliding door. If you are south facing and experience relatively high temperatures this may also not be the most suitable material for you.
Thermally broken aluminium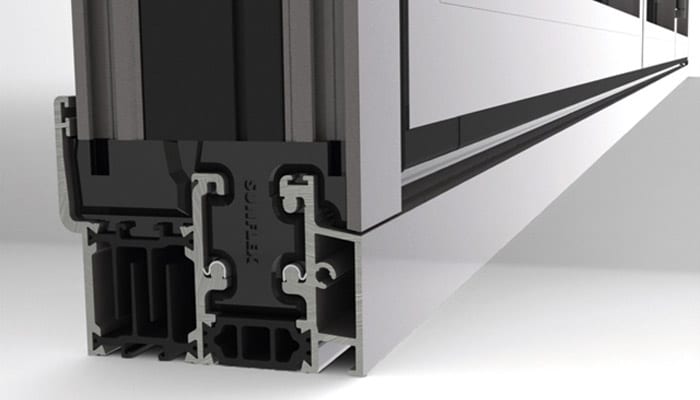 Usually the slimmest frames and offers the slimmest sight lines as aluminium is the strongest, most stable material used for bifold and sliding doors. These are pretty much maintenance free, can be recycled and do not experience a large amount of movement in temperature extremes like plastic. Aluminium does conduct heat quicker than plastic so needs a thermal break – look for a good size thermal break (the distance between the inside and outside aluminium) as the larger it is the better it protects the inner surface of the door or window from temperature changes that affect the outer surface. Larger thermal breaks tend to require more complex design and construction and therefore whilst offering the better thermal performance they can be relatively more expensive.
Timber
A natural product in your home, and for some in keeping with the property interior and exterior – or in keeping with the planning authorities conditions and stipulations. Bear in mind you will have to maintain these doors, sand down and reapply stain to the outside. The frequency of this will be about every 2-years depend upon what stain you have chosen (generally the darker it is the longer it will last) and also how exposed these bifold or sliding doors will be to the elements. To ensure the timber is stable the sight line is usually slightly larger than aluminium although advances in technology are reducing this with new systems. It is important to obtain the wind and water weather test values if you proceed with a timber door because the variances between systems are greater than with aluminium systems available.
…A fourth option

While we said there were three options of materials (and technically that is correct) there is actually a fourth – a composite.
If you are looking to enjoy the benefits of aluminium bifold and sliding doors with the natural beauty of timber a composite door is the answer, you can now achieve the best of both worlds. Featuring interior timber cladding, the composite doors do not require additional maintenance, offer slimmer sight lines compared to timber and are lighter to operate compared to traditional timber doors – whilst offering the same aesthetic appeal of natural timber.