Understanding the differences between glass types can be confusing, especially when you are trying to find the right balance between thermal performance, solar control and even security, then for sliding doors, there is the weight of the sealed unit to consider and how that impacts on the size of the panels you can have.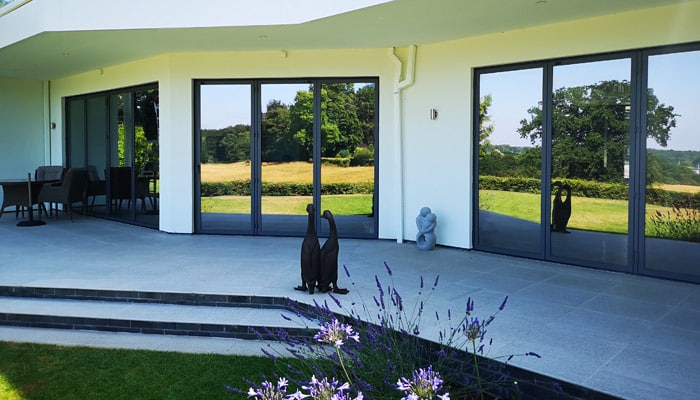 All of our products are available with a wide range of glazing options and our expert project advisors work closely with our customers to identify the right glazing specification, even varying glass specifications between systems on a home to find the ultimate solution.
Standard
To reduce heat loss through the glazing the internal surface of the glass is coated with metallic elements, this coating is known as low-e, where the 'e' stands for emissivity. The almost invisible coating is designed to reflect heat back into the room. There are various types of low-e coating with the more efficient coatings being referred to as 'softcoat' they can provide glass centre pane u-values as low as 1.0W/m²K in double glazing or 0.5W/m²K in triple.
Solar Control
The coating applied to the surface of the glass has properties to both reflect the heat from inside your home back into the room as well as reflecting or absorbing the heat radiating from the sun back to the outside. The benefit is the reduced need for cooling rooms in summer months. Solar control has two forms, either a tinted glass that absorbs heat or a neutral glass which reflects heat; these are measured as a Solar factor or G-value. Both types of glass will reduce the amount of light transmitted through the glass, however, a neutral glass will have a higher rate of transmittance.
Low Iron
By reducing the amount of Iron within the glass it becomes much clearer and inherently will let through more light. This makes it a popular option to use on elevations that do not get direct sunlight to maximize the daylight that will pass through the glass. As well as an increase to the light transmittance, it also lets through more energy from the sun which is great on a sunny autumn day, but it can cause a greenhouse-type effect in the summer months.
Laminated
By bonding two panes of glass together with a transparent film in-between, the security of glazing can be improved. Rather than shattering, like toughened or non-toughened glass, the pane will crack on impact, where the bonded film safely and securely holds the sandwich of glass as one piece. There is also an added benefit that the transparent film cuts down Ultra Violet (UV) radiation to 2% which causes furnishings and materials to fade.