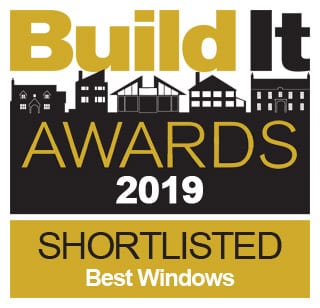 IDSystems' hugely versatile Thermo65 aluminium window has been shortlisted in the 'Best Windows' category at the 2019 Build It Awards. Success at the prestigious self-build awards is no stranger to IDSystems having won the 'Best Glazed Doors' category for three of the last four years.
Learn more about the Thermo65 window >>
The Thermo65 is renowned for combining incredible versatility with advanced performance, being able to achieve an almost infinite range of configurations with the same contemporary square-edged profile.
From casement windows with tilt & turn, top or side-hung openings that can be designed alongside fixed frames for bedrooms or bathrooms all the way through to large, eye-catching picture windows and even ultra-stylish frameless glass-to-glass corners, the Thermo65 is an ideal solution for those seeking to create a consistent appearance across all of their glazing.
Available in double or triple glazing and with a range of colour options to match the style of any property (including the ability to have the inside and outside faces of the window in different colours), the Thermo65 can achieve a U-value as low as just 1.1W/m²K and provides an advanced protection from wind and rain, being independently tested to 900Pa (Class E) of water tightness and 600Pa (Class 4) of air permeability.
Speaking of the award nomination David Clarke, IDSystems' Marketing Manager, said "We are thrilled with this recognition for the Thermo65. Our technical team have gone back to the drawing board to come up with designs utilising the Thermo65 that provide an almost unlimited scope. Over the last 12 months we've seen a real growth in sales of the product and whether our customers are utilising it with an opening or as fixed frames the Thermo65 is ideal."
The Thermo65 can be incorporated with other IDSystems products, including theEDGE2.0 or Grand Slider II sliding doors because of its consistent frame widths, whilst it is also possible to use the Thermo65 as an angled fixed frame to sit above doors or windows in a gable end.
The winner of the 'Best Windows' category will be announced at a glittering award ceremony in London on the 29th November, where IDSystems will be hoping to emulate their success in 2015 (SUNFLEX SF55s aluminium bifold doors), 2016 (theEDGE sliding door) and 2018 (vistaline slide & turn doors) in the 'Best Glazed Doors' category.