For nearly twenty years our IDSystems vans have crisscrossed the country from our base here in Norfolk, working on more than twenty-thousand projects ranging from replacement doors and windows to the grandest of Grand Designs TV show builds.
The projects we have worked on have changed over the years, but there are plenty of things that haven't. We:
are still a family-owned business (albeit we've grown from just three members of staff to now employ nearly 100 at our bases in Norwich and at Rackheath),
still supply some of the most innovative and advanced glazing products available anywhere in the world
employ our own staff, from design and manufacture all the way through to installation and after-sales – it is the only way we can control the quality of the jobs that we work on, and of course
are still just as proud as ever of our roots in the county.
IDSystems today
We may not be a household name in Norfolk (indeed ironically we may be better known in North London), but gradually over the last two decades, we have built ourselves up to be one of the region's most successful companies.
Our range of products is unmatched in the country and we work with suppliers across Europe to provide our customers with the very best products available. Our bifold doors are made by SUNFLEX in Germany and are widely regarded as the highest quality systems on the market, our slide & turn doors are designed in Switzerland and our ultra-slim sliding doors are made here at our factory in Rackheath.
At our showroom close to the airport in Norwich, our team of expert project advisors are on hand to provide advice and support for homeowners, architects and the building trade. The showroom is packed full of each one of our products, providing our customers with the chance to get a feel for the quality of our doors and windows, whilst being inspired by our previous projects.
Our projects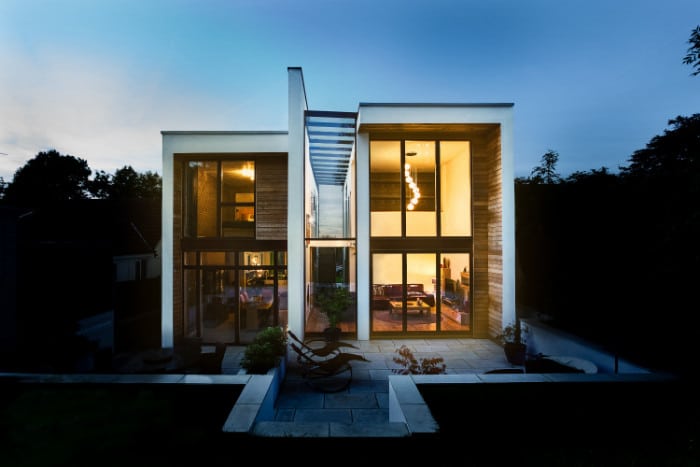 Whether you are in the City, in the towns and villages or on the coast the chances are you aren't far from an IDSystems installation. From modest extensions on terraced houses in Norwich's Golden Triangle to barn conversions in the middle of green fields or incredible self-build homes overlooking the beautiful North Norfolk coast, you'll find our bifold doors, sliding doors and glazing systems.
Over the last twenty years, we've worked with almost every architect in the county and beyond on hundreds of builds, creating contemporary spaces filled full of natural light or complementing the character of more traditional style homes.
Our products
The IDSystems product range includes:
How can we help?
If you have a home improvement, extension, renovation or new-build home you are considering in Norfolk then we would love to help and offer advice.
You are welcome to visit our showroom at any time between 9am and 5pm Monday to Friday or by appointment between 10am and 2pm on Saturdays. Alternatively, you can send us an email to info@idsystems.co.uk or call us on 01603 408804.
Don't just take our word for it
Over the last twenty years our products, projects and service have been recognised nationally with awards and accreditations, including: