We get asked three questions about our products by every one of our customers, whether they be end users or specifiers.
How much is it?
What are the sightlines? and
What are the U-values?
Whilst each question is valid, there is a fourth that is hardly ever asked that are hugely relevant –
How weather tight are your doors?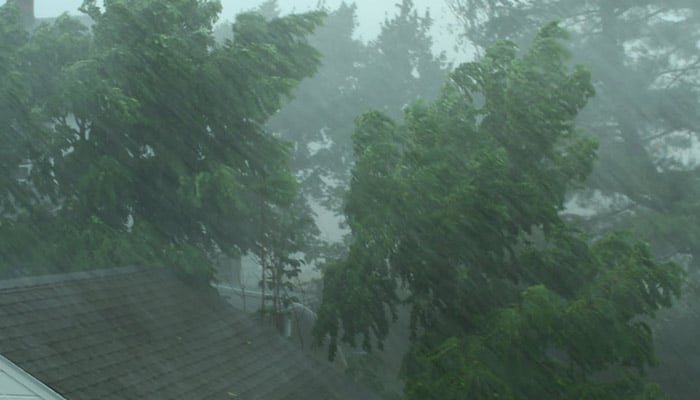 The dream of bifold doors and sliding doors is to connect your home and garden, 'bringing the outside in'. The imagery we use as manufacturers and suppliers are very much of blue skies and sunny days and that is the concept that homeowners fall in love with.
The realities of the British weather is that historically on average we may only get 20-30 days of consistently warm sunny weather each year and therefore any door system that is specified needs to work for the other 48 weeks.
To this regard the question of weather tightness comes into play, just how well will the doors stand up to the elements and keep drafts, wind and rain outside when they are closed.
Whereas U-values are theoretical calculations, for weather ratings each set of doors undergoes a physical test and unlike thermal calculations, it is not just based on a panel of the door, the system is tested in its entirety including outer frames and tracks.
The doors undergo three independent tests for air permeability, water tightness and wind load.
The tests measure the amount of air or water that can penetrate through a window or door system when closed. This examines the quality of the seals, design and manufacture and the ability for each element of the door to come together as an entire system to prevent as much air or water (or in real-world settings drafts and rain) from travelling through the system as possible.
Because the tests are carried out on a complete system including track and frame they offer an indication to the quality of the overall product, particularly with regards to how well the doors are manufactured and how well they seal together and to the outer frame. With thermal performance, it is theoretically possible to have a door system that has outstanding U-values but is still drafty, because the calculation heat loss includes only the frame and glass and not the seals and interlocks.
The tests are undertaken by a licenced testing facility in a controlled environment and are carried out to European Standard EN 12207 for air permeability and EN 12208 for water tightness.
For the air permeability test, an example of each door system is fixed to a testing rig and both positive and negative air pressures are exerted on the doors, increasing in 100Pa increments.
The classes for EN12207 range from class 0 (the lowest) to class 4 (the highest), with the highest class indicating that the door system has been tested under pressures up to 600 Pa without the air permeability through the joints or overlaps in panels, outer frames or tracks exceeding the permitted limits.
Categories of Air Permeability according to EN 12207
Class

Test Pressure

Max Air Permeability permitted limits

 

Pa

Sealing
m3/h/m

Window/Door area
m3/h/m2

1

150

12.5

50

2

300

6.75

27

3

600

2.25

9

4

600

0.75

3
For the water tightness testing again a sample set of doors are fixed to a testing rig and water is forced through a nozzle at the doors to replicate driving rain at increasing pressures for longer time periods.
The classes for EN 12208 range from class 0 (the lowest) to class 9 (the highest) with the highest class indicating that the door system withstood 600Pa of water pressure for 55 minutes.
Categories of Water Tightness according to EN 12208
| | | |
| --- | --- | --- |
| Class | Test Pressure | Spraying Time |
|   | Pa | Minutes |
| 1 | 0 | 15 |
| 2 | 50 | 20 |
| 3 | 100 | 25 |
| 4 | 150 | 30 |
| 5 | 200 | 35 |
| 6 | 250 | 40 |
| 7 | 300 | 45 |
| 8 | 450 | 50 |
| 9 | 600 | 55 |
Whilst Building Regulations Document L sets the minimum standard for thermal performance, there is no minimum requirement for weather performance. For consumers and specifiers, this lack of a minimum standard can mean that finding doors that are suitable for a project is more challenging, particularly where the property is located in a rural or exposed location more susceptible to prevailing winds and rain.
The other challenge is that not every manufacturer and supplier of glazing will advertise the test results of their products clearly, with some using generic statements such as 'independently weather tested' without stating to which class or rating the doors performed to. The only way to be sure of the quality of the door system and the protection offered is to ask for the certificates for each European Standard test which will clearly state the pressure and class achieved by the product.