With more people working from home and spending more time in their homes due to the pandemic and subsequent lockdowns, it's no surprise that more people turned their attention towards home improvements. Interestingly, almost half of UK homeowners (46%) undertook a home improvement project during 2020, according to a recent Trends Report.
We wanted to find out how people's perceptions about their living spaces have changed during this time. In particular, we wanted to know how UK homeowners feel about small rooms in their home and how they have improved these spaces.
We surveyed 1,000 UK homeowners to discover people's biggest drivers for home improvements, the issues they faced when trying to convert or improve their home, and much more.
Read the results below, including our five inspirational tips to help you improve your own small spaces and add value to your property.
Key findings
The main driver for people improving or converting their homes is to achieve a better quality of living, at 52%
48% of people feel they don't have the budget to improve their home
40% of UK homeowners use social media for home improvement for inspiration – more than any other source of inspo
63% of UK homeowners said that plenty of light is their biggest priority for their living space
45% of people think inventive storage is a good way to improve their small rooms
41% of people believe lighter shades of paint will improve a small space
---
1. Find good sources of inspiration
UK homeowners are in need of ideas, tips and inspiration. In fact, 28% of people say they aren't sure what to do with their spaces. For those who are keen to make changes, 48% feel they don't have the budget while 32% don't feel they have the time.
The top three sources of inspiration according to UK homeowners are:
Social media (40%)
Family and friends home (36%)
Interior magazines (33%)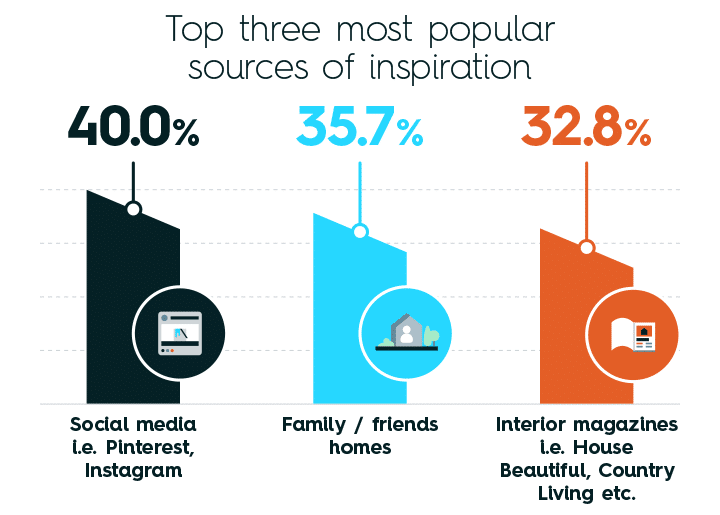 From these figures, we can see that social media channels are popular sources of inspo. With Instagram, for example, you can follow accounts dedicated to home renovations, improvements, decorating, rebuilds, and more to find inspiration.
Pinterest, on the other hand, allows you to create your own 'board', in which you can save, collect and organise your Pins. For example, if you've found stunning home renovation or decoration content on Pinterest or around the web, you can store them in one place – your own personal 'inspiration board'.
While social media may seem like an obvious source of inspiration for younger generations, 43% of 18-24-year-olds actually refer to interior magazines. Adding to this, people aged 25-34 are more likely to turn to social media as a source of inspiration – 61% compared to 57% of 18-24-year-olds.
Whether you have a flicker of an idea or no idea at all, finding inspiration is helpful when planning to improve or convert a space.
In addition to social media, family and friends and interior magazines, you can also enlist the help of a professional. In fact, 60% of UK homeowners said that they would seek the help of an interior designer, architect or tradesperson if they were extending into one large room (eg. open plan space).
Our survey also reveals that 27% of homeowners look at dedicated inspiration pages on company websites for creative ways to use their indoor spaces. Inspiration pages often feature content around real-life homes, from new-build projects and home improvement to room renovations and decoration.
---
2. Create natural light
According to our survey, 63% of UK homeowners said that their biggest priority for their living space is having plenty of light. Access and layout came second with 52% of UK homeowners saying it was a priority while having a traditional/homely feel came third (40%).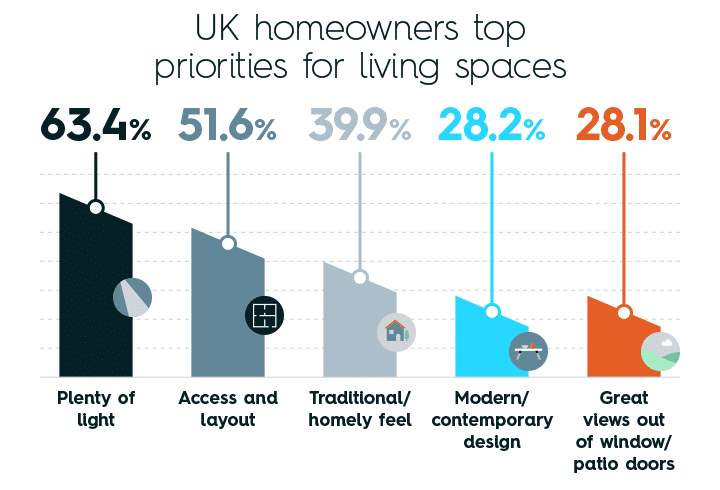 Bringing natural light into a small space can make your room look and feel bigger. Consider installing large windows, such as skylights or picture windows. Depending on where the room is situated, you could also consider introducing large bifold doors or sliding doors to open up the space, make the most of the surrounding scenery and invite natural light into the room.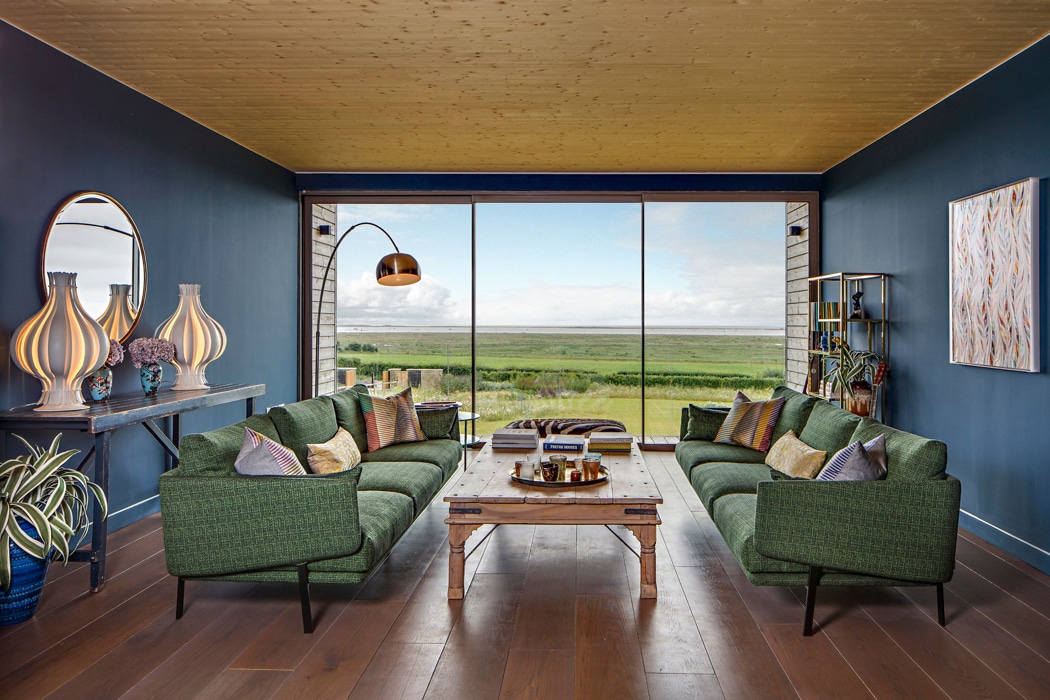 Our survey even revealed that 14% of UK homeowners think that the use of bi-fold doors will improve small spaces within their homes, while 19% believe larger windows will benefit small spaces.
As well as improving the space, natural light provides multiple physical and mental health benefits. For example, sunlight boosts vitamin D, wards off seasonal depression, improves sleep and reduces stress.
If you're truly limited about how much natural daylight you can invite into the room, introduce mirrors to the space to reflect existing light and illuminate dark, unlit corners. More than a quarter of our survey respondents (26.4%) thought that mirrors can help to improve small spaces within their homes.
---
3. Make it a multi-functional storage space
Small rooms are ideal spaces for storage, with 28% of UK homeowners agreeing. Additionally, our survey found that 45% of people think inventive storage is a good way to improve their small room.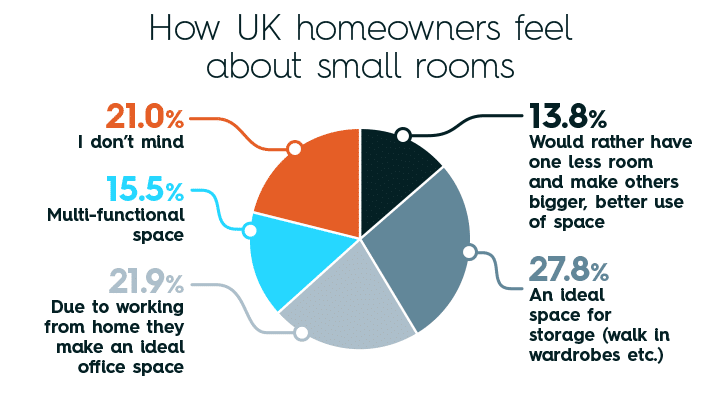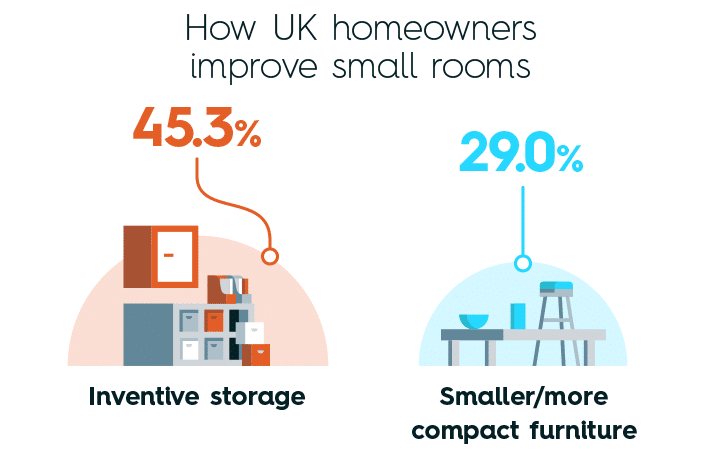 If you have a small room and you're lacking cupboard space, consider transforming your 'box' room into an inventive storage space. Some versatile ways to utilise storage space include installing high shelves along the perimeter of the walls, buying radiator cover cabinets and adding hooks on the back of the doors.
If you're working from home and you want to utilise the space even further, why not make the storage room multi-functional and buy a folding desk? You could also transform the space into a walk-in wardrobe or a reading/storage room.
---
4. Open up the space
If you're really not happy with your small room, then why not knock down a few walls to open up the space? Open-plan spaces can offer a high-quality living, providing an area where the family can come together, engage in shared activities and spend valuable time with each other.
You also have more opportunity to make the room multi-functional, while allowing easier access to other rooms.
Letting more light into the room is a much easier task when it comes to open-plan spaces too. From bifold doors and sliding doors to slide and turn doors and large bespoke windows, there are plenty of ways you can welcome the light in.
When extending a room, 60% of UK homeowners would seek the help of an interior designer, architect or tradesperson. Building an open-plan space can be a challenge which is why it can be a good idea to seek help from a professional.
To find reputable tradesmen, ask around – sometimes word of mouth can be incredibly useful, especially if you're getting recommendations from people you know and trust. You should also look online and read reviews – just be careful when reading reviews as some may be fake.
Make sure you get quotes from at least three different tradesmen. That way, you can better judge the true cost of the work required. Also, the more you speak with builders or other professionals about the work, the more you will learn about it and in turn, you'll be better able to judge whether a tradesman knows what they are talking about.
If knocking through walls isn't an option, you can still maximise usability with solutions like internal glass sliding doors to let the light in and make the room appear larger. As 41% of UK homeowners said that the main driver for converting or improving their small room was to increase the usefulness of space, installing internal doors is a great option.
---
5. Add a splash of paint
Try using darker shades of paint to open up the space. Darker shades of paint creates the perception of depth, disguising the fact that a room is small. Despite this, only 5% of people believe darker shades of paint will improve a small room while 41% think that lighter shades will improve a small space.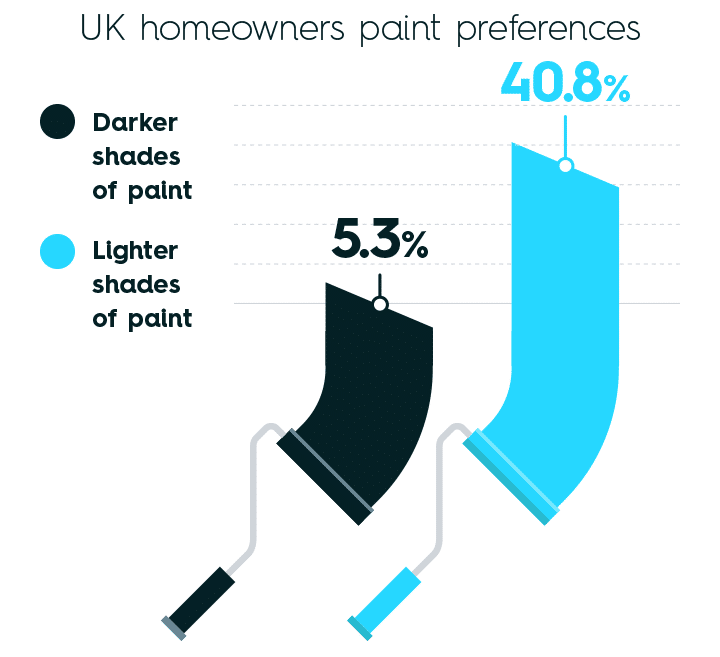 While pale neutrals and lighter shades are a good choice to encourage the illusion of space, consider trying darker tones too.
Looking to improve your small space?
Hopefully these tips will help you improve your own small space and increase the property's overall value. In fact, 32% of UK homeowners said that their main reason for making home improvements is to increase the property's value.
The top reasons for making home improvements also include:
Wanting a better quality of living (52%)
Caring about appearances and wanting it to look nice (44%)
Increasing usefulness of the space (41%)
Whether you seek a better quality of living or you want to increase the usability of the space, we have plenty of glazing solutions to help you bring the light in and make your small space appear larger.