When it comes to window design in the UK the choices for most projects are normally fairly standard, but sliding and bifold have proven to be innovative alternatives for those seeking something other than a fairly standard design.
Sliding windows
For larger apertures that would typically require a combination of fixed frames and opening sashes, sliding windows provide a really clever alternative. With the ability to incorporate the minimal 20mm sightlines of theEDGE2.0 system, a sliding window can provide the slimmest frames possible, thus maximising light and making the most of the views out.
With the huge panels achievable on full-height doors, sliding windows with smaller window heights can be designed to the same (or even wider) panel sizes – making virtually any required configuration a possibility.
The windows can be designed to incorporate lift & slide technology should you only wish the open them the tiniest amount for ventilation and lock them in place, whilst systems can be configured to include open or floating corners or to even slide into a pocket to hide the frames completely out of view when open.
For windows at first-floor level or above the windows can be combined with our frameless glass balustrades to form a Juliet balcony, enabling you to open the windows up completely – providing the perfect view out whether open or closed.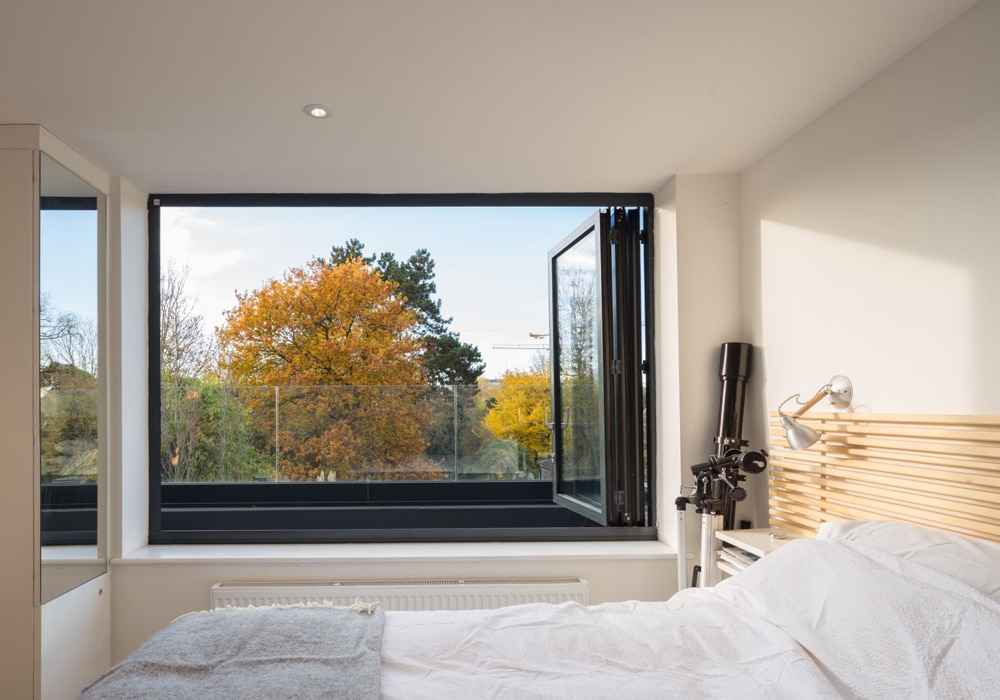 Bifold or folding windows
A really popular option, bifold windows that open completely and stack to one (or both) end have proven to be a stylish option and utilised in a wide number of ways.
At ground-floor level the addition of bifold windows in kitchens has added a real 'wow' factor for those seeking to extend their living space out into the garden. The ability to completely open up the folding windows to create a contemporary 'serving hatch' has become a popular addition to urban extensions.
The windows can even be integrated into a folding door system, allowing a half-height window and full-height doors to be created within a single opening; whilst the intermediate panels of the windows (and doors) can be part-opened whilst still locked shut to allow for ventilation.
At first-floor level and above, bifold windows enable homeowners to completely open-up an aperture, creating panoramic views over city roofs or rural fields. As with sliding windows the folding panels can be incorporated alongside a balustrade to create Juliet balconies if required.
As with sliding windows, IDSystems' bifold windows are manufactured as shorter height doors. This means that the windows share all the benefits and performance of our SUNFLEX bifold doors and are available in both aluminium and internally timber-clad aluminium designs. If required the windows can be manufactured to create completely open corners thanks to our moveable corner post technology.
It also means the windows share the same industry leading weather and thermal performance, enabling stylish functionality with incredibly low U-values and the most advanced protection from wind and rain available.